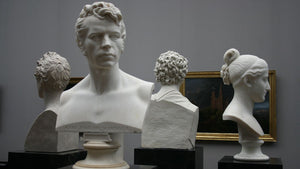 September 2021
Collection Management Policies
Instructor: Matthew Clouse
Regular price
$199.00
$0.00
Course Dates
September 5, 2021 - October 2, 2021

Course Description
A collections management policy is a living document that spells out not only the raison d'être of a museum, but how its collection is to be used, cared for, and protected. It should be a go-to for all museum staff, from registrars to curators, event staff to security. 
This course will provide an overview of collections management policies, including:
The necessity of ensuring proper care and protection of collections and loans

Interpretation of existing policies that may be outdated or lacking

Development of a document that is clear, concise, and assertive yet allows for flexibility as appropriate

Museum-wide implementation
Hands-on, practical assignments will be geared toward your current organizational situation or the type of museum in which you hope to work.
Learn how to craft this vital document and increase your effectiveness in all aspects of your career. Sign up for this course to be able to:
Evaluate what makes a policy effective or not

Develop sound yet adaptable collection management policies

Gain perspectives of other museum departments and professionals

Manage organizational change across your museum and build buy-in for new policies
---
About the Instructor
Matthew Clouse was born and raised in Omaha, Nebraska and has been working in the arts since the very beginning. He studied at the University of Nebraska, Omaha and received a Bachelor's degree in Art History before going on to earn a Master's in Museum Studies from the University of Leicester. He completed his thesis on the topic of collections management policies and how they can be used to ensure proper documentation of new and emerging forms of contemporary art.

He has worked at Joslyn Art Museum in Omaha, Nebraska, in both Education and the Collections and Exhibitions Departments, as well as at the Daum Museum of Contemporary Art in Sedalia, Missouri. At the Daum Museum, he was the first Registrar at the nearly new facility and completed a full cataloguing and inventory of the collection, in addition to writing the first collections management policy (CMP).

Currently, he is the Registrar at University of California Riverside, California Museum of Photography/Culver Center for the Arts. Here, he has also co-written the museum's new CMP. Matthew is also an artist, Certified Yoga Instructor, Reiki Master and Certified BodyTalk Practitioner.
---
How it Works
MuseumDev offers 4-week professional development courses for museum workers taught by experts in the field. Asynchronous courses allow you to finish readings, participate in discussion forums, and complete class assignments on your own schedule. 
Receive certificates of completion.
---
---
Share this Course
---