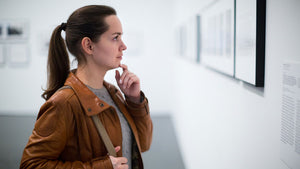 December 2021
Writing for Exhibits
Instructor: Kathryn Lasdow
Regular price
$199.00
$0.00
Course Dates
December 5, 2021 - January 1, 2022

Course Description
What compels visitors to explore an exhibition inside and out? How can museums make their exhibits clear and accessible? We can often find the answer in engaging, inclusive, and memorable panel and label text.
This course will offer expert instruction on the techniques and best practices used by museum professionals to write text and labels for audiences of diverse ages, abilities, and backgrounds. 
We will examine writing and formatting strategies to produce components such as:
introductory and content panels

tombstone labels

wall quotes

other descriptive text
Sign up for this course to gain confidence in writing text for visitors from an array of backgrounds and experiences. You'll build a comprehensive foundation in exhibition writing skills by designing text and panels of your own.
---
About the Instructor
Dr. Kathryn Lasdow is an Assistant Professor of History and Director of the Public History Concentration at Suffolk University in Boston.

She has worked for a number of museums and historic sites, including the Brooklyn Historical Society, the Museum of the City of New York, the White House Historical Society, the National Park Service, and the Colonial Williamsburg Foundation.
Her physical and digital exhibition credits include Waterfront (2018-ongoing), Until Everyone Has It Made: Jackie Robinson's Legacy (2017), Visualizing 19th-Century New York (2014) and The White House Social Secretary (2012).

---
How it Works
MuseumDev offers 4-week professional development courses for museum workers taught by experts in the field. Asynchronous courses allow you to finish readings, participate in discussion forums, and complete class assignments on your own schedule. 
Receive certificates of completion.
---
---
Share this Course
---